The Dungeon Bastard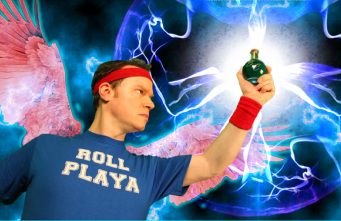 In this Episode of the Vorpal Chainsword Podcast we spoke with the Master of Adventure Coaching:
Bill Cavalier - The Dungeon Bastard!
Bill Cavalier is a Paragon of Humanity, a Captain of Men, a Bugbear among Kobolds. He has mastered all elements of roleplaying, and squashed a few elementals while he was at it. Known by countless DM's as THE DUNGEON BASTARD, Bill donates his time to helping players reach their full potential as gamers, be it by laying waste to monsters in the Dungeon, or laying waste to villagers in the Tavern brawl after the Dungeon.
If you know a gamer
who needs help
— or maybe you are
a gamer
who needs help —
contact Bill today
!
BILL CAVALIER, ADVENTURE COACH
. Not just making you a better
roleplayer
, making you a better PERSON.
---
---
Snippets from the Show


The Full Length Podcast


---

Cory's Comments about the Interview


Bill Cavalier the Dungeon Bastard is one of the best DMs I've ever seen, with lightning-fast improv skills that will keep even the most trollish gamer on their toes. I've had the opportunity to play in a couple games he's run at conventions, and I can say without hesitation that his adventures are not only captivating and epic, but he's also able to trigger uproarious laughter from the players constantly throughout the game. His impression of a Gnomish Riddlemaster is something that has to be seen to be believed, as I can't try to imitate it without bursting out in giggles. If you ever have the opportunity to play in a Dungeon Bastard game, or to get an adventure or something written by him, you would be amiss to deny yourself the opportunity to experience it. I hope you enjoy listening to the show as much as I enjoyed talking with Bill! Game on!

---
Notes and Topics mentioned in the Show