ERNIE GYGAX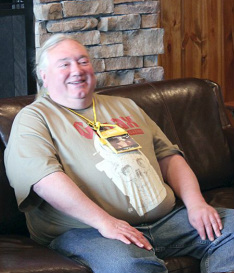 In this Episode of the Vorpal Chainsword Podcast we spoke with Lake Geneva's Master of Arcane Mysteries,
Tenser the Wizard
himself:
Ernest Gary Gygax Jr
.
Ernie has been a gamer as long as gaming has been a thing. Son of a creator of D&D, Gary Gygax, Ernie's been playing wargames and early drafts of what we've come to know as D&D ever since he could hold a pencil. Ernie became a part of the original
TSR
, having a hand in creating monsters, spells, writing up the Dungeon Geomorphs, acting as Creative Vice President of the Dungeons and Dragons Cartoons show, and DMing huge games of D&D in a consistent world of his own design in the infamous Hobby Shop Dungeon. Always willing to run a game for plucky gamers either in his home or at cozy conventions, such as
GaryCon
and
GameholeCon
, Ernie's never faltered in his quest for more adventure! Now Ernie has teamed up with mega-mapmaker and writer Benoist Poire to create
GP Adventures
, and bring back those early gaming adventures we all know and love. You can check out their sample for the first (huge!) level of the Hobby Shop Dungeon in
Gygax Magazine #3
. Ernie was kind enough to talk to me about all things nerdy here on The Vorpal Chainsword!
---
---
Wandering Monsters

---

Full-Length Campaign

---

---

Cory's comments about the interview

Getting the opportunity to interview Ernie Gygax was an amazing experience! Hearing his stories about the origins of D&D, and developments since its origins was fascinating. The best part is that this gaming icon, the original Tenser none the less, is still around and gaming whenever he can, at Garycon, Gameholecon, or whenever he gets a chance to head to local game shops around Wisconsin! And after getting a peak at the upcoming Hobby Shop Dungeon coming from GP Adventures, I can't wait for the release of the full dungeon! Game on!
---
Bardic Lore
---