MC FRONTALOT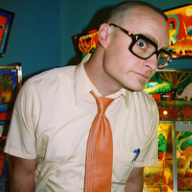 ---
Choice Morsels


---

The Full Length Podcast


---

---

Cory's Comments about the Interview


I have been a ridiculous super-fan of MC Frontalot's music for years, and astute listeners will notice that I'm barely able to carry on a conversation with the guy when I finally get the opportunity to talk to him. I hope that you'll forgive my cringe-worthy fanboyness and know that yes, I recognize how starstruck I sound in the podcast, but I hope you enjoy the show anyway because MC Frontalot is so flippin' cool. Nerdcore 4 Life!

---
Topics from the Show/Referenced Links

Nerdcore Rising Documentary
Question Bedtime
The Big Bang Theory
Dungeons and Dragons
"SteamBox" (a PC built to play video games)
Video Games: Saints Row 4, Burnout Paradise, Alien: Isolation, Civilization V, Papers Please, Gunpoint, Farcry 3, Blood Dragon, Faster than Light, Tomb Raider, Sim City

Teenage Mutant Ninja Turtles
Teen Wolf
Batman with a Green Lantern Ring
The Wonder Twins and Gleek
The Thief
Cyberpunk
First World Problems