In this episode we talk with the Warrior King of Gamehole Con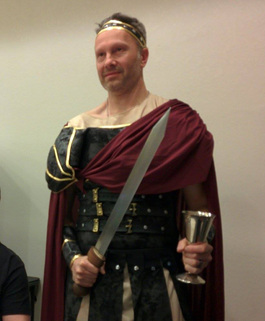 Alex Kammer
At his heart, Alex is a Gamer. Even more than that, Alex is a Gamer Cleric, who strives to bring the True Light™ of tabletop gaming to the masses. About two years ago (by
Dale Reckoning
) Alex and his hearty crew of Gamehole ne'er-do-wells decided to take their gaming and business expertise and launch a gaming convention in the Midwest the likes of which must be experienced to be believed.
Gamehole Con
burst onto the RPG convention scene in 2013 and right from the start showed what a top-notch tabletop-focused gaming convention should be about. Between the
impressive guests
, the fantastic games line-up, and the incredibly friendly volunteers and organizers, Gamehole Con is THE gaming convention for anyone who gets excited by the idea of discovering a Longsword+1 (+3 vs. Undead) in an Ogre's treasure hoard.
---
---
One-Shot Adventures


---

Full-Length Convention


---

---

Cory's notes about the interview


I wandered into the first Gamehole Con back in 2013 and was blown away by how welcoming it was. The guests at the first year's convention were amazing, and Gamehole Con 2014 was even more impressive! I was fortunate enough to be given a tour of the actual Gamehole itself, and I can assure you the sheer number of rare adventures and D&D relics on display in that holy shrine is staggering. On top of all that, Alex is a super-friendly guy and genuinely loves running, playing in, and hosting gaming for other RPG fanatics like us. We had a great chat about our preferred types of gaming and conventions, and I hope you enjoy the interview.
Be sure to come out to Gamehole Con on Nov. 6th-8th 2015, at the Alliant Energy Center in Madison Wisconsin!

---
Links to Other Topics Mentioned in the Show

---