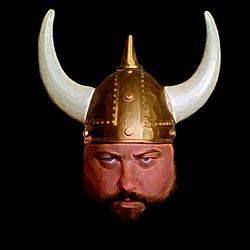 In this episode of the Vorpal Chainsword Podcast we talk with the Master Cartographer of old-school gaming:
Benoist Poire
The non-Gygax other half of
GP Adventures
, Benoist is a never-ending font of adventure hooks and gaming enthusiasm. Originally hailing from France, but currently living in the Sasquatch-infested woods of British Columbia, Benoist crafts
fantastical maps of such quality
they'd make Lewis and Clark envious. Before starting GP Adventures, Benoist had developed a name for himself in gaming through his many online contributions to the hobby, such as the critically-acclaimed series of
Advice to Build a Megadungeon and the Campaign Around It
, and his work developing adventures for the
Astonishing Swordsmen & Sorcerers of Hyperborea
role-playing game. Benoist published his first adventure module in AFS Magazine Issue 3,
The Hyperborean Laboratory
. He has since co-authored
The Marmoreal Tomb of Garn Pat'uul
with
Ernest Gary Gygax, Jr
, and continues to work on developing a full Lake Geneva-style Hobby Shop Dungeon to bring to a greater audience of gamers. Benoist is extremely active online, and can be found giving gaming advice from his
own Facebook page
, on the
Hobby Shop Dungeon page
, and through many forums and
websites
related to the hobby.
---
---
Pocket Dimensions


---

The Full Megadungeon


---

---

Cory's notes about the interview


Talking with Benoist was a blast! Rarely does one get the opportunity to speak with someone who is so enthusiastic about gaming. I couldn't even end the interview on time if I tried, and we ended up talking for an extra 20 minutes because we were having such a great discussion! Not to mention the longest-duration Quizblast yet! Benoist is clearly dedicated to creating great things for our hobby and it comes through in the interview. I had a fantastic time talking with Benoist and hope that you enjoy the podcast as I much as I enjoyed recording it. Game on!

---
Links to Topics Mentioned in the Show