Its October! And in this spooky episode of the Vorpal Chainsword Podcast we barely survive an encounter
with the hiphop Supervillain: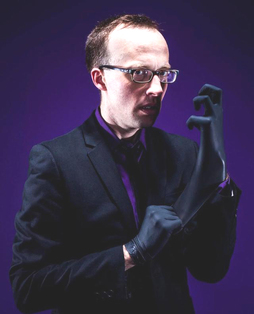 SCHAFFER THE DARKLORD
Schaffer T. Darklord
is the shadowy antihero of nerdcore who's eventual conquest of New York City is all but assured. Regardless of whether he's dropping dark rhymes about
massive Font battles
to the death, revealing his unsettling fascination with
exsanguination
, or just engaging in everyday
Supervillainy
, STD leaves no survivors in his wake. Between raps, Schaffer hosts and performs at touring
Burlesque shows
, particularly those themed to David Lynch films or other nerdy but titillating subject matter. Furthermore, he co-hosts and produces the
Epic Piecast
, a hilarious monthly podcast featuring snarky commentary about Comic Books and general Pop Culture esotera. Recently, The Darklord emerged from his lair in NYC to tour dive bars and sci-fi conventions around the Midwest, in what has become known in shuddered whispers as the
Heartland Horrorshow
. Finally, rumors abound of an upcoming EP from the STD:
Sex Rhymes!
---
---
Crime Alley Segments


---

The Full Takeover of Gotham


---

Cory's notes about the interview


I saw Schaffer the Darklord perform at

The Frequency

in downtown Madison with his fellow rapper

Coolzey

, and I can say that their show does not disappoint. I've been a fan of Schaffer for a number of years now and discussing comics, podcasting, and music with him was fun as hell. Schaffer was awesome in the Quizblast and his express love of all things Batman made for a super enjoyable interview for this DC comics devotee. I think any fan of superheroes or comics will particularly enjoy this podcast interview with the dark lord of nerdcore hiphop!
---