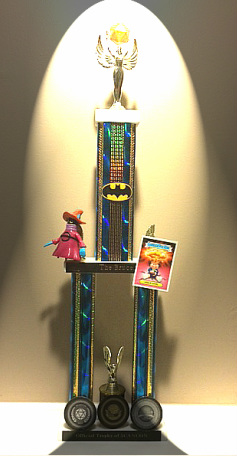 SCANCON is an annual semi-secret convention event spanning back through 10,000 years of gaming history. For Vorpal Chainsword members to even attend ScanCON one has to face three physical and mental challenges of ultimate mystery each year leading up to the event! Even that will only grant thee the password to access the webpage that possesses the clues to attend the gathering, though once at ScanCon they'll have the opportunity to participate in The ScanCon Tournament of Champions Championship Tournament and, if successful, add their personal piece of flair an take home the traveling ScanCon trophy:
THE BRUCE!

Do you have the keen eye of a true detective and the physical stamina of a Starcraft mathlete? Do you have the mental acumen of a Sherlock Holmes of the Internet Age and the constitutional robustness of a young Mathew Broderick? Do you think you might have what it takes to join the few hyper-intelligent riddle-masters and dice-rollers at ScanCon2018?

Do you want to be tested to find out if you have what it takes to attend ScanCon?

Well, if so, then know this:

You've already started...

---